ASTERISM proudly announce 2019 is the year of ASTERISM World Tour!!! 🎉🎉🎉
Hell yeah! Finally, ASTERISM start delivering its live performance to the world! 🤟🤟🤟
First leg is in Asia, starting at 3cities in China, and one city in Thailand, right after New Year's Day! 👏👏👏
OMG! It's pleasure to post this! We don't need to seal our lips!!!
ASTERISM always aim for live in the world. One year has passed since the first live streaming from Hard Rock Cafe Fukuoka, each members, HAL-CA, MIYU, MIO is keeping up for the day!
And now, ASTERISM has chances to see you!
Date and locations? Drum roll, please! 🥁🥁🥁🥁🥁🥁🥁🥁🥁🥁( Thanks, MIO!)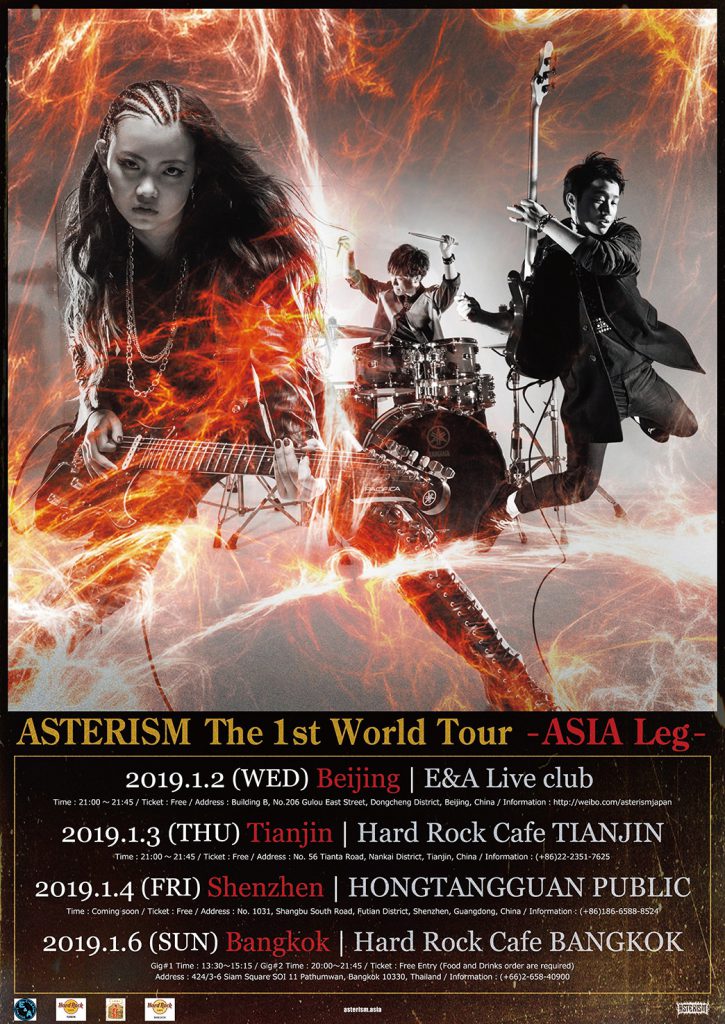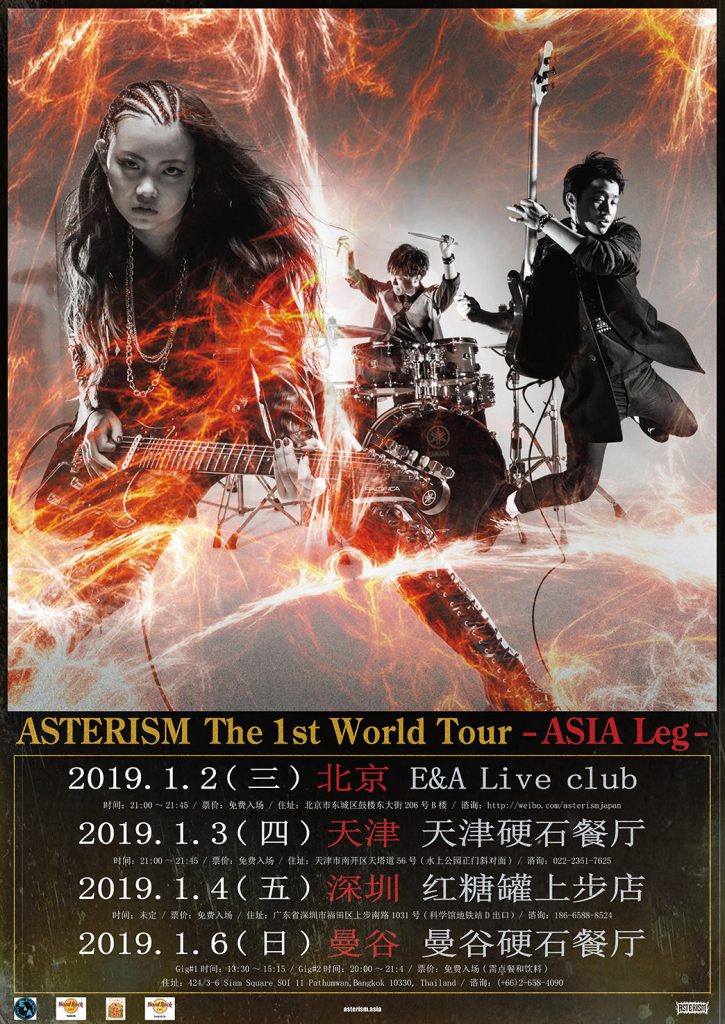 – Beijing, China –
Date: January 2, W. 2019
Time: 9:00pm to 9:45pm
Venue: E&A Live club
Address: Building B, No.206 Gulou East Street, Dongcheng District, Beijing, China
Ticket: Free
Information: http://weibo.com/asterismjapan
Weibo: https://www.weibo.com/u/5406963586
– Tianjin, China –
Date: January 3, Th. 2019
Time: 9:00pm to 9:45pm
Venue: Hard Rock Cafe TIANJIN
Address: No. 56 Tianta Road, Nankai District, Tianjin, China
Ticket: Free
Information: +86 22-2351-7625
Weibo:https://weibo.com/u/6519213426
– Shenzhen, China –
Date: January 4, F. 2019
Time: To be announced
Venue: HONGTANGGUAN PUBLIC
Address: No. 1031, Shangbu South Road, Futian District, Shenzhen, Guangdong, China
Ticket: Free
Information: +86 186-6588-8524
Weibo: https://www.weibo.com/woaiyaogunyue
– Bangkok, Thailand –
Gig#1 "Youth On The Rock"
Date: January 6, S. 2019
Time: 1:30pm to 3:15pm
Performers: ASTERISM / 4 Teenagers Bands from Bangkok
Venue: Hard Rock Cafe Bangkok, Thailand
Address: 424/3-6 Siam Square SOI 11 Pathumwan, Bangkok 10330, Thailand
Ticket: Free
*Food and Drinks order required
Information: +66 2-658-4090
Gig#2
Date: January 6, S. 2019
Time: 8:00pm to 9:45pm
Performers: ASTERISM / House Band from Hard Rock Cafe Bangkok
Venue: Hard Rock Cafe Bangkok, Thailand
Address: 424/3-6 Siam Square SOI 11 Pathumwan, Bangkok 10330, Thailand
Ticket: Free
*Food and Drink order required
Information: +66 2-658-4090
Entertainment Marketing, Inc. brings you "FUN"
We are Tokyo and L.A. based company.
Providing;