Entertainment Marketing, Inc. started to represent instrumental rock band, 'ASTERISM' since March 2018. We work totally for 'ASTERISM' to be great all over the world, as representer, booking rock festivals or events, supporting publicity as well as produce and more.
'ASTERISM' is Instrumental Hard Rock/Heavy Metal Band, born and based in Japan.
Band members consist;
*Guitar : HAL-CA  DOB November 23, 2002 16yrs.
*Bass : MIYU DOB March 12, 2002 16yrs.
*Drums : MIO DOB November 14, 1999 19yrs.
Holy Christ, average of 16 yrs.!
(Age as of February 20, 2018)
What makes 'ASTERISM' so attractive? Its aggressive play force and live their passion to music breaking out into the stage. We, Entertainment Marketing has been searching world-class talent, so surprised to watch their video on YouTube, really satisfied with sound source of CDs, and view live at Fukuoka, finally.
A guitarist, HAL-CA -insane shred guitarist and 'Right Hand', her mathematical picking technique drives YAMAHA Pacifica roar like a beast, already call her genius.
A bassist, MIYU -perfect on slapping, tapping or right hand sublimate 7 strings bass into machine gun.
A drummer and a leader, MIO -keep exact rhythm, flowing fill in exciting passion.
They are the one easily flying out from Japan to the world.
Now, ASTERISM is touring the world.
ASTERISM has done the Asia leg of the 1st World Tour on January 2019 in 3 cities in China including Beijing, Tianjin, Shenzhen and Bangkok in Thailand.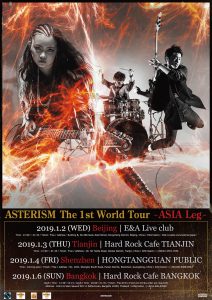 On March 2019, ASTERISM to tour the U.S.A. in Austin, Dallas, Spring.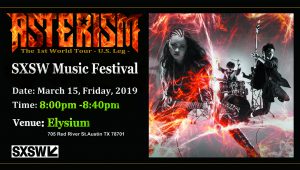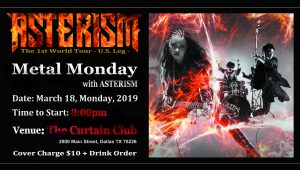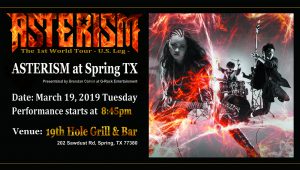 Come and join ASTERISM world in the U.S.A.!
To see 'ASTERISM' biography, click the link.
HAL-CA solo-entry to qualifying of the 8th Music Revolution, music competition by YAMAHA Group, in 2014 at Fukuoka venue. MIO & MIYU participated as a bothers' unit 'O.G.I.' to qualifying at Saga. A staff of YAMAHA, audience in both qualifying, impacted and felt possibility on them, considered 'it may be the birth of incredible band!', talked to both.
Post in Facebook account of the band burst into recognition, Bootsy Collins shared video of 'ASTERISM' in his Facebook page, introduced 'Our Asia brother's & Funkateers are gettin' Funked-Up & Stronger!', total number of views rise to over 13,000,000.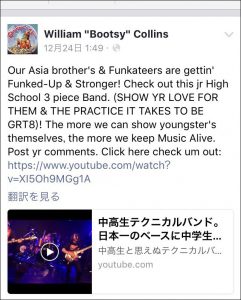 Particularly, a video of ASTERISM on rehearsal original song '155', published on July 23, 2015, reached to 5,500,000 total number of view, and shared 120,000.
July 2015 means HAL-CA(G.) was just 1st grade in junior high, MIYU (Ba.) was 2nd in junior high, and MIO (D.) was 1st in high. Without doubt, they 're just kids.
'ASTERISM' means a small group of stars, named to express their will three twinkling stars assemble, shine brighter as an aggregation. Entertainment Marketing support 'ASTERISM' shine much brighter than ever.
Management: Yamaha Music Entertainment Holdings, Inc.
'ASTERISM' Official Website – English
http://asterism.asia/en/
Label : Tokuma Japan Communications Co., Ltd.
'ASTERISM' IN Tokuma Japan Communications Website Japanese
http://www.tkma.co.jp/jpop_top/asterism.html
'ASTERISM' YouTube Channel
https://www.youtube.com/channel/UChW49WDAfg2slMaak9Q0Ayw
Entertainment Marketing, Inc.
TEL : 81-3-6721-0095
PIC : Dennis, Beat, Tamla, Rika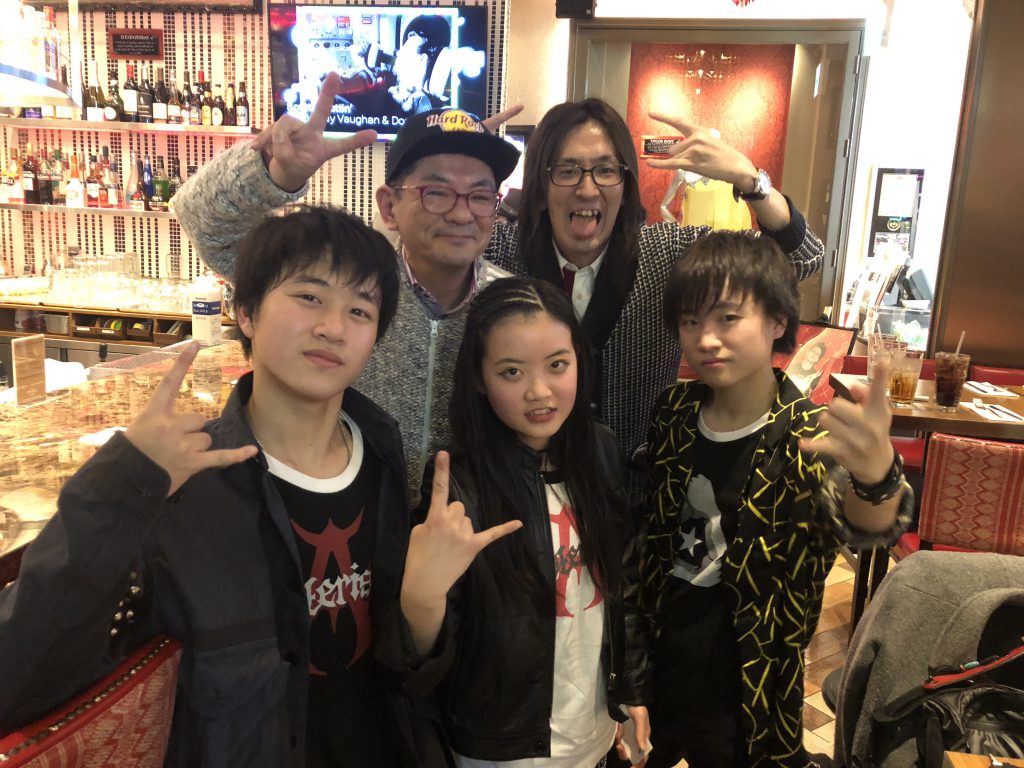 Feel free to contact us
Entertainment Marketing, Inc always open its door for fun.
Contact Us in website, => click here
To call,
81-3-6721-0095
(Browsing the website in smartphone, tap tel no. to start your call)